"When little people are overwhelmed by big emotions, it's our job to share our calm, not to join their chaos." - L.R. Knost
Which one of us has not had a screaming match with our kids? It's perfectly normal for parents to get angry with their kids from time to time. Children know which two types of buttons to press – the ones on our mobiles and the other's ours.
Instead of losing your temper when you know your kiddo is trying to push your buttons, it's advisable to take a step back, and a deep breath. Easier said than done, right? I agree, it's difficult when you're tired and exhausted and your kids just won't let up.
I speak from personal experience when I say that if parents don't deal with their anger in a positive manner it leads to frustration, then resentment, and a growing sense of bitterness and hopelessness - none of which are healthy for you or your family.
Recognize your triggers.
When we begin to recognize what actions begin to trigger us into losing our tempers, then we can address them better. For example when we are running late for school, a party or a practice session and I ask my child to get dressed, and despite constant reminders, he doesn't, it's frustrating. That's when I begin to feel as if I am losing control over the situation and begin to get angry that no one else is taking my concerns to be punctual seriously.
If you have faced a similar situation, then instead of yelling and pulling a shirt over their heads, just pick up your kids and firmly take them to the car. When they realize you're serious, the next time they will get ready on time. It may take a couple of times to drive the lesson home, but when they have to go to a friend's birthday party in their pajamas, they will know mom and dad mean business.
Find new ways to communicate.
Instead of growing out of the bad parenting habits of our own parents, we tend to fall back on them. Giving overly harsh and unfair punishments, sarcastic remarks or name calling and spanking are some of the ways which can really hurt your child deeply, as they did you.
So, instead of raising your hand, it's time to change the way you communicate with your child. Let's say, your son is misbehaving or having a temper tantrum about the toy he just has to have. In public it becomes all the more stressful because of the added "embarrassment" or "sense of shame" which parents begin to feel at not having a perfectly well behaved kid.
Instead of focusing on your sense of helplessness and frustration stemming you will only add aggravate the situation more if your approach is negative.
Instead, take a deep breath and carry your son outside the toy shop, no matter how loud a racquet he begins to make. Take him to the car, or to a calmer place, out of the public eyes. Try not to lecture or yell at him, because when he won't hear you anyways!
Once your kid is calmer, tell him that this situation was hard on both of you, and the choice is his – whether to go straight home or have some fun with the time left. Don't give in to his demands, else the next time you are asking for an even bigger tantrum.
Worse comes to worse, console yourself thinking that at least your child is not throwing her tantrum in front of the US President, like Claudia, who's mother had to deal with it in front of the world press!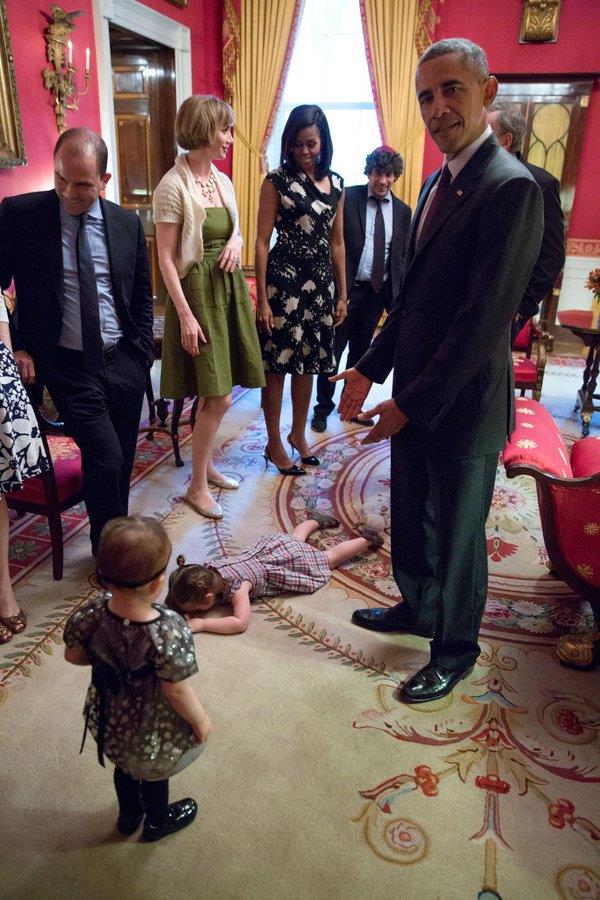 Develop strategies to remain calm.
Use a calming strategy that works for you. It can be deep breathing, counting till 10 or even walking away for a while.
When your little one insists on having Chocos or cookies for breakfast instead of the upma you made, he will keep asking for it knowing that sooner or later, mom is going to give in. And most of the times, we do give in don't we, just to stop the whining or we lose our temper and the yelling starts!
In such a situation, where you are trying to assert your authority as a parent, and your kiddo is trying to get his way, take a deep breath and try to remain calm. Take charge by explaining to your child that we don't have cookies for breakfast when something is already on the table. Give him another option like "What if I make you a chocolate milkshake, but after you have finished your upma?"
This will give him some measure of control (feeling he has had his way), while you as a parent has not ceded too much ground.
Always remember that your child is not trying to give you a hard time, he's having a hard time himself trying to cope! What are the strategies you use to discipline your child you child? Have any of these strategies worked for you? Share below!